Step 1
Login into Flavor CRM with login credentials
Step 2
Click on Payments from the left sidebar and then click Invoice

Step 3
Invoices details page will open. Click on Invoice tab. It will show all the invoices.

Step 4
Click on Filter Icon to show the only Fully Paid invoices.

Step 5
Pop box will open to select the desired filter.
1. The status Paid
2. Select Subsidiary
3. Select Branch
4. Select desired Course Type
5. Select desired Course Name
6. Select Class
After selecting the required data, click Apply to Apply the filter.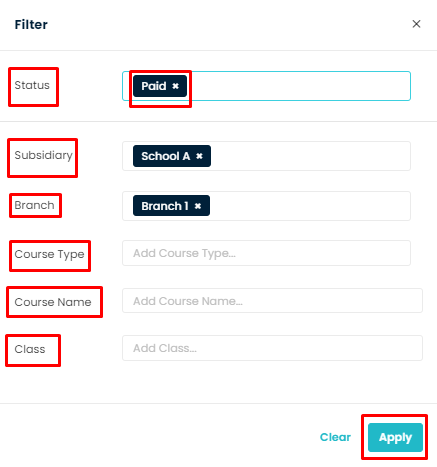 Step 6
Now only Fully Paid Invoices will be displayed. To Delete a Fully Paid Invoice, do the steps below
1. Select the Paid invoice from the list of Invoices.
2. Click on Actions indicated by 3 dots.
3. Click Delete to delete an invoice.

Step 7
Confirmation Popup box will appear to confirm before Deleting an Invoice.

Need more help? Ask us a question
Please let us know more of your details and our team will reach out to you very shortly.