Step 1
Login into Flavor CRM with login credentials
Step 2
Click on Payments from the left sidebar and then click Invoice

Step 3
Invoices details page will open. Click on Custom Invoice tab. It will show all the custom invoices created.

Step 4
Click on Filter Icon select the desired invoices.

Step 5
Pop box will open to select Paid invoice and click Apply to apply filter. It will display all the Fully Paid Invoices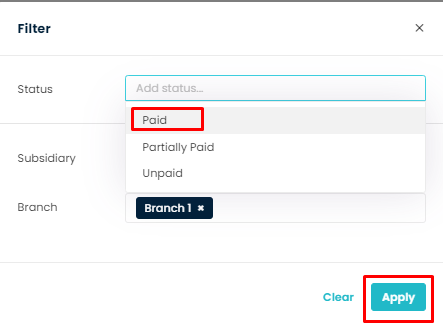 Step 6
To Delete a Fully Paid Invoice, do the steps below
1. Select the Fully Paid invoice from the list of Custom Invoices.
2. Click on Actions indicated by 3 dots.
3. Click Delete to delete an invoice.

Step 7
Confirmation Popup box will appear to confirm before Deleting Fully Paid Invoice.

Need more help? Ask us a question
Please let us know more of your details and our team will reach out to you very shortly.