Introduction
Payment Advice is automated in Flavor System. It is generated automatically when a Student is enrolled in a class. It is then converted to an invoice and the user can pay.  
Note: Payment Advice can be used only if the Generate Payment Advice setting under Class Setting is ON. 
How to Set ON the Generate Payment Advice settings?
Step 1
Go to the Classes from the left side menu of the Flavor System.
Click on the Class Settings.
Scroll down and Enable the Generate Payment Advice. 

Where to find Generated Payment Advice?
Step 1
Upon a student's enrollment into a class, a Payment Advice will get generated. To view the Payment Advice, go to the Payment module.
On the Top right, you will find the Payment Advice Tab. 
Click on the Payment Advice Tab.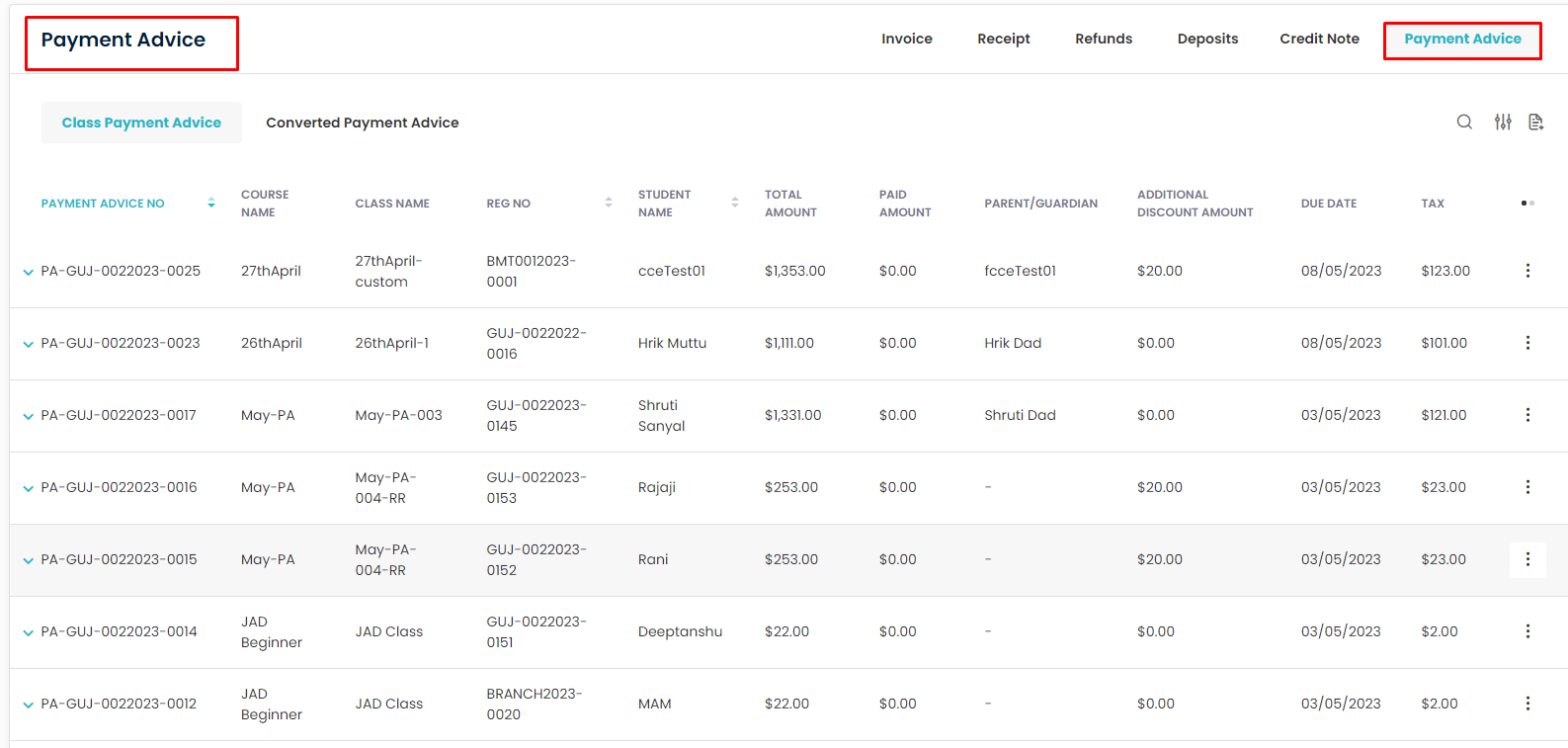 Step 2
This will navigate you to the Payment Advice page.
You can see two tabs viz. Class Payment Advice and Converted Payment Advice. 
Class Payment Advice will list all the Payment Advice which are created upon enrollment. 
To Convert the Class Payment Advice to an Invoice, click on the inline action button against each record in the Class Payment Advice grid. 
Click on the Convert to Invoice action link. 
A confirmation popup will appear.
Click on the Convert button. 
The invoice will get converted and will get shifted to Converted Payment Advice Grid. 
Simultaneously, the corresponding invoice will get created and will be listed in the Invoice grid. 
You can click on each record to view the Payment Advice. 
Both the Class Payment Advice and Converted Payment Advice will have Search, Filter, and Export functionalities. 

Note: While Enrollment via the Registration form, Booking form, or Student portal, and the payment is made through Stripe/Omise, then Payment Advice will be generated along with the invoice. And the respected Payment Advice will be listed under Converted Payment Advice.   
Need more help? Ask us a question
Please let us know more of your details and our team will reach out to you very shortly.