A Complete Guide to Sales Cycle: Definition, Stages, and Process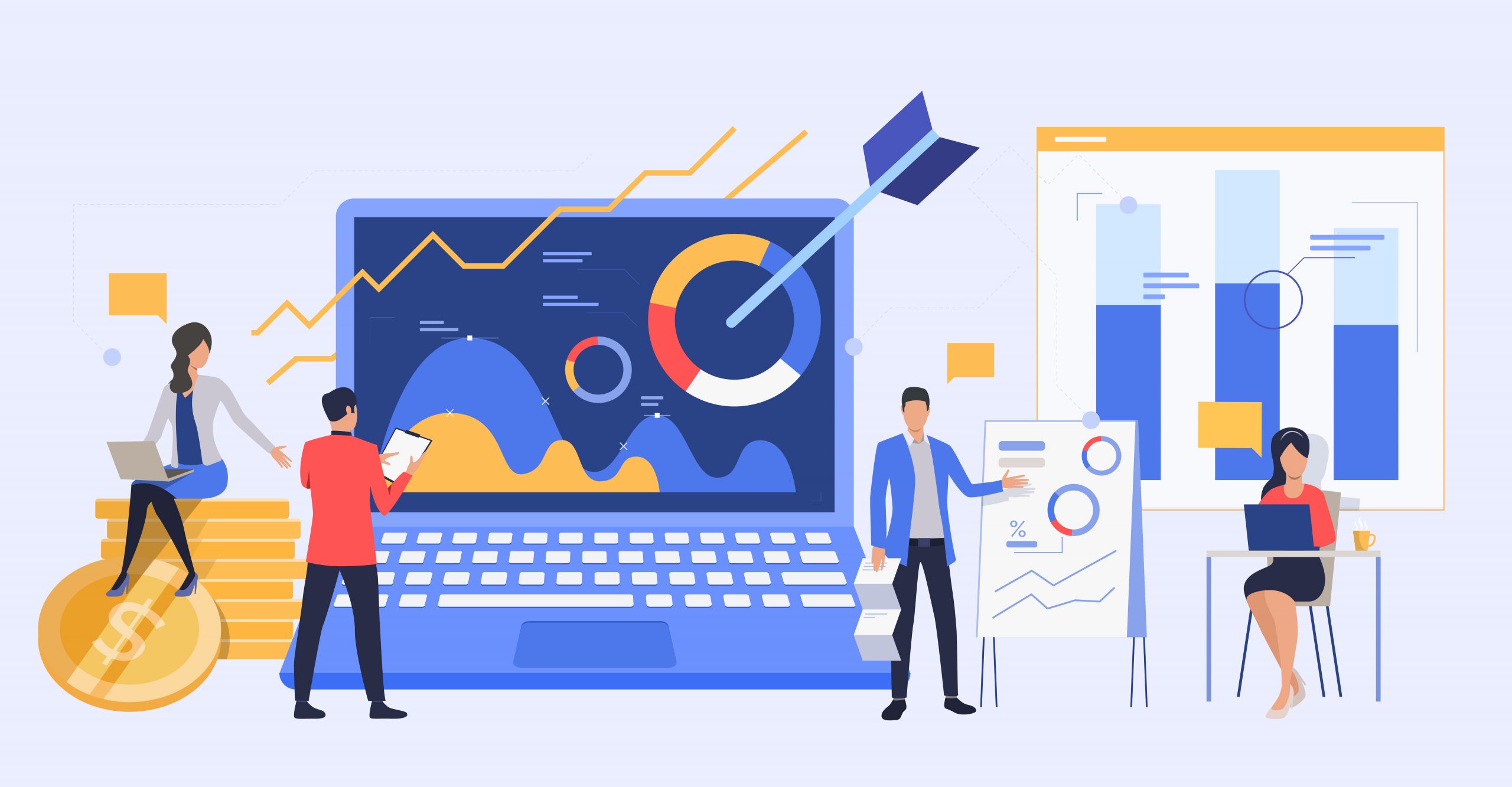 Understanding the sales cycle enables organisations to achieve success more consistently. No wonder that most companies follow a robust sales cycle month after month to hit their sales targets. Doing things the way they come might sound exciting at first, but an unsystematic approach seldom yields any results. The same is true for closing deals in your business. While most companies rely on properly structured sales channels and strategies, others try different things and stick to what works for them at that point in time. But it has been observed that businesses with a proper sales process are likely to generate 18% revenue than those who don't. And this very structure is called the Sales Cycle. 
What is a Sales Cycle? 
A sales cycle is a properly defined process of closing deals. Generating leads, following up with the clients, and finally making a sale is the usual sales cycle process followed across the globe. The intricacies of a sales cycle might differ depending on the industry or the product/services a business is selling, but the overall structure remains similar across all sectors. 
A clearly defined sales cycle helps an organisation know about the efficiency of its sales operations. Analysing the different stages of a sales cycle at a micro-level will let you know what you did well and where you can improve. Such analysis can help organisations improve their sales and revenue generation in the long run. Since the market and customer behaviour are volatile and continue to evolve, it is important to have a system in place that gives you a chance to understand things and improve.  
Seven Stages of the Sales Cycle
There are seven stages of a sales cycle. This classification or breaking down of the entire sales process in stages helps in finding out your strengths and weaknesses. So, if you are taking twice as long as your competitors to close a deal, you can individually assess the stages and see which stage is consuming most of your time. This granular approach helps an organisation invest dedicated efforts into each stage of a sales funnel rather than shooting in the dark and not getting the desired results.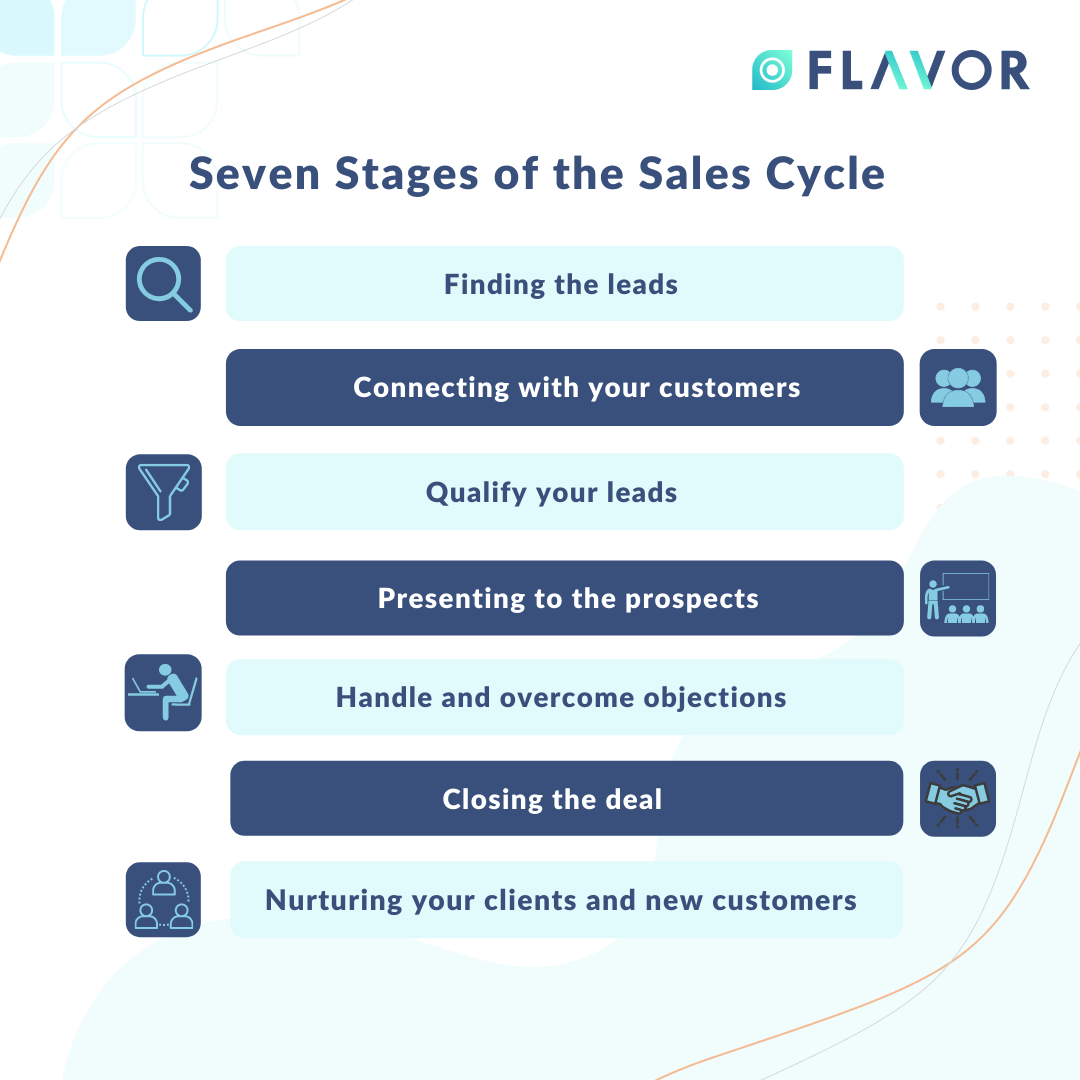 Finding the leads



This is the beginning of your sales cycle process, where you look for people who are interested in your product or services. Once identified, they are added to your sales pipeline. It is good to know who exactly your target audience is as it increases your chances of finding quality leads. 

This can be done by:



Solving your customer's potential issues on Quora

Create engaging videos that have built-in lead generation forms

Leads can be generated through support-ticket conversations 

Engage with prospective customers on LinkedIn and other similar site

This is not the time to make a sale, especially if you are dealing in B2B sales. Your aim at this stage is to simply gather potential leads and determine whether they match your buyer persona. All the information related to these leads can be integrated into your CRM system for future use.

 

Connecting with your customers

The more you know about your prospective customers, the better are your chances of making a successful pitch. In the second stage, you must find out everything about your customers, their needs, and their pain points. If you are a B2B vendor, knowing about the company history, its top clients, business type, key competitors, industry knowledge, etc., are a few things you must know. This will allow you to have a spot on first communication with them. Remember, the first call or the first email sets the tone for future communications. So, you must be prepared well before you make the first move. It's still not time to make a sales pitch. Provide an overview of what you are offering – your products and services and assess if they are ready to move to the next stage. 

You can identify this through the BANT technique:

Budget: Do they have the right budget to avail your products/services? 

Authority: Does your point of contact have the authority to sign the deal?

Need: Does your contact person/organisation need your product/services? 

Time: An achievable time frame of when they can make the purchase.

Qualify your leads


Not every lead you connect with will make a purchase; you would need to turn them into prospects. Leads are those who might or might not be interested in your products/services or don't have the resources to make a purchase. Prospects, on the other hand, are both interested and have the resources as well. These are the people who you need to chase. But how do you identify between the two?

Ask the following questions about your leads:

Is the lead interested in your services/products?

Do they recognise their need for the services/products you are offering?

Do they have the resources?

Is your contact person the final authority to make the decision?

If you don't get a big "YES" as an answer to all the four questions, your lead is probably not qualified to be a prospect. You can move on to your next option. But don't delete this contact from your list yet. They can turn into a prospect six months down the line. So, keep their contact information handy for the future. 



Presenting to the prospects


Now that you have identified your leads and converted them into prospects, it is time to take the sales process to the next step – share how your products and services can help them. This can be a presentation in the form of a video, in-person meeting, over the phone, or any other mode – whatever way you wish to connect with them, the basic formula remains the same. 

Introduce yourself

Present them with the problem

Offer the right solution

Back your claims with proper data

Sum things up for them

Take questions and provide prompt answers

Pro Tip: During the entire course of your interaction with your prospects, focus on how your product and services will benefit them instead of elaborating on the features. 



Handle and overcome objections


It is highly likely that even a prospect will have inhibitions or will be unsure about your product and services. While most prospects will be already convinced to make a purchase, you might have to further convince the others. Look at their questions and objections as an opportunity to tell them more about your products/services. An unsure prospect and his objections don't mean that a sale is impossible here. You need to be sharp, smart, and persistent to make it happen. 

Some of the common objections you might face include:

The cost is too high

I am bound by a contract with your competitor

We need more features

Pro Tip: The most common objection faced by the sales personnel is the price. To counter argue, you can show them the benefits and features you bring to the table and how your product will enhance and help fulfil their needs. Clearly communicate what the prospects will get for the price paid. 



Closing the deal


Now is the time to hit the nail and get your prospect to sign the dotted line. There are three ways of getting this done.

An assumptive close: You behave as if the prospect has already decided to make a purchase. It's hard to pull off, but it works.

A suggestion close: Give your prospects suggestions based on their needs.

An urgency close: Provide discounted rates or attractive offers to entice them to make a purchase.

Even if you are unable to close the deal after making all the efforts, don't lose heart. Your prospect can turn into a customer in the future, so keep following up with them. This is what takes us to the last stage.



Nurturing your clients and new customers


Be it your new clients who have closed a deal with you or a prospect who might turn into a client in the future; it is important to nurture them and keep the communication channel open. This will not only develop stronger customer loyalty but also give a chance of an upsell or a referral. 

You can do this if you: 

Ensuring a smooth onboarding and handoff process.

Continue providing them with useful material about the products and services like how-to guides, etc. 

Checking with them regularly if they need any help and if you could be of any help.

Pro tip: If you develop a strong relationship with your client, don't be afraid to ask for a referral. It will only help you widen your customer base and revenue generation. 
How to improve your sales cycle process
Regardless of how frequently your sales team is able to achieve their targets, there is always scope for improvement. Here's how you can optimise your sales cycle process: 
Reduce redundant tasks
It has been observed that sales reps spend only 36 per cent of their total time selling. The rest of the time is spent doing administrative work (filing paperwork, manually managing leads and prospect data), and other non-revenue generating or downtime activities. 
Always follow up
Most sales pitches require follow-ups, and it gives you a far better chance of converting leads into prospects by simply following up with the clients. 
Move slowly
Ask for smaller commitments and go slow with your sales pitches. For instance, ask for their phone number when you email them or ask for a product demo when you meet them first. 
Use social proof to your advantage
Using case studies to counter your prospects' objections, confusion and concerns is a great idea. It helps convince them to move closer to making a purchase. This can be done by giving reference from your past customers (phrases like "so many people…," "most organisations in this situation…,"are helpful. You can also name companies for citing examples that benefited from your pitch, etc. 
Train your sales personnel
Training will make your team better at doing what they have been doing well till now. Identify their weaknesses and provide additional resources to enhance their skills. Conduct seminars, pep talks by sales pioneers for better insights. Help them develop soft skills, and 'How to' sessions where they can be taught about approaching clients, pitching, selling, etc. 
A robust sales cycle, coupled with an efficient CRM software can help you increase your sales
In the normal progression of things, your business is most likely to get bigger with time, and using the traditional methods for record-keeping might not be enough. But if you automate such manual tasks through an efficient CRM system that a large number of organisations now use, it can benefit you in the long run. You need an efficient CRM system, a system that is capable of handling multiple leads, deals, and prospects and storing them in one central location for everyone to access. It can also track conversions, sales cycles, lengths, and a lot more. This will help you close deals faster and increase customer retention.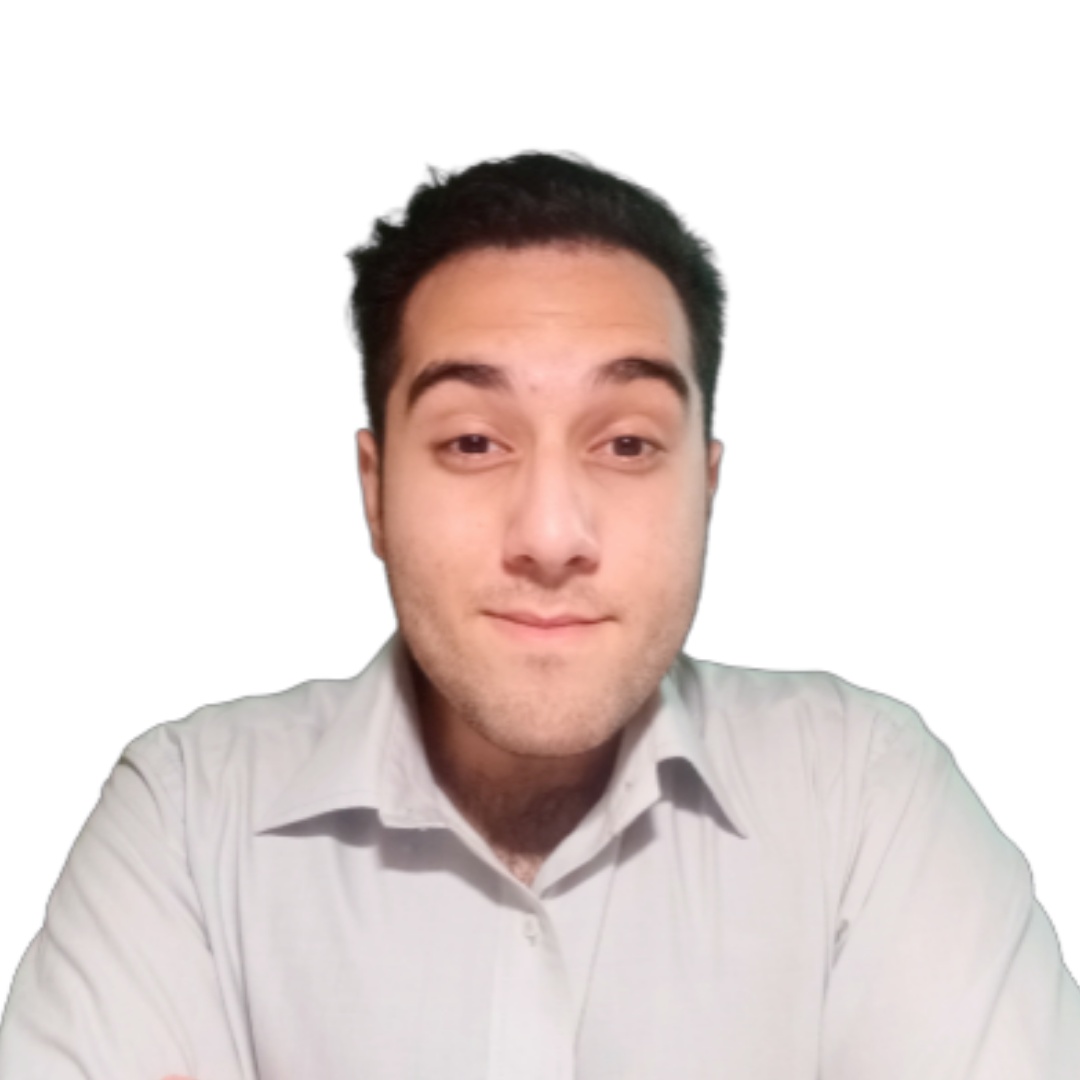 General Manager
Devansh Suri with his expertise in IT and Marketing is able to come up with market viable solutions for clients who are looking for integrating CRM system into their businesses. He looks after all round system development, knowledge base creation and marketing of Flavor System.